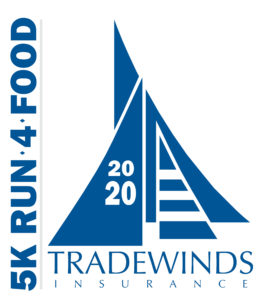 Tradewinds Insurance
1st Annual Virtual 5K Run-4-Food
Benefitting the NWHH Christmas in July Event
A Note from Your Race Host:
First and foremost, we are thrilled that you have elected to join us in supporting the North Whidbey Help House's Christmas in July, by walking or running this virtual 5K. Please know that all registration fees will go directly to the North Whidbey Help House, and any additional funds raised will also be added to that donation. While this year's Christmas in July looks a little different, we are still collecting non-perishable food donations as well! Just swing by our office anytime during office hours to drop off any canned foods you would like to donate (see the flyer inside your packet for suggested non-perishable foods).
Again, thank you from our entire team here at Tradewinds for your participation in our first annual virtual 5K! We are committed to working hard to create change in our community, and your participation in this race helps us do just that!
Now, on to the race details!
Pre-Race:
Train, train, and train! Nothing is worse than thinking "Oh, it's just a 5k, I'll be alright" and then getting injured or not being able to complete it! Get out there and get to stepping! 
Follow us on social media to follow posts regarding the race. Post will include GIVEAWAYS, race day details, the amount of funds and donations raised for the NWHH, and more! 
Invite your friends! Remember that every registration cost $10.00 per person, unless you are a family of three or more – the family rate is only $25.00 – and all of the registration fees go directly to the NWHH. 
This is a great way to get your kids outside and involved in something that impacts their community! With COVID-19, it is easy to feel trapped inside. This is a great way to get outside…at least for 3.1 miles! 
Also remember that you can participate from near or far as this is a virtual race! We challenge you to invite friends and family across the country, and even across the world (shoutout to our service members on deployment – thank you for your service)! 
Race Day:
Wake up, stretch, eat a good breakfast, drink lots of water, and get ready to hit the pavement, track, or treadmill!
Walk or run your 3.1 miles whenever and wherever you would like.
While walking or running, keep track of your time (start time, end time, and average mile pace) as there will be prizes at the end for the following categories:

Fastest Woman Participant
Fastest Male Participant
Further Participant from Oak Harbor
Oldest Participant
Youngest Participant
Company, Business or Non-Profit with the Most Participants
During your 5k, post on your social media using the hashtag #5KRun4Food. Tag Tradewinds Insurance on whatever social media platform you are using.
This will not only keep us accountable to run/walk the 5k, but it will also enter you in a drawing for a giveaway!
After the race, submit the following details by messaging us on Facebook or Instagram for the final prizes (all prizes will be announced on Sunday, July 26):

Your total time from start to finish
Your average mile-pace
Your age
Name of Company, Business, or Non-Profit that you participated with if applicable 
Post-Race:
Recover. Feel Great. The truth is, you have now benefitted both the NWHH and yourself! You've made a difference today!
Keep an eye on social media for the post-race prizes and giveaways! You never know, it could be YOU!
Give us feedback! We would love to hear about your experience in our first annual virtual 5k, so that we can improve for next year's race!
Thank you again for participating in our race. We hope that you have fun walking or running with the rest of the virtual 5k participants. If you have any questions, please feel free to message us on social media, or contact us by phone or text at 360-679-4949. We can also be contacted through our website at www.tradewindsins.com. Let's do this again soon!